Characteristic
Acute Pain
Chronic Pain
Cause
Generally known
Often unknown
Duration of Pain
Short, well-characterized
Persists after healing ≥ 3 months
Treatment Approach
Resolution of underlying cause, usually self-limited
Underlying cause & pain disorder; outcome is
often pain control, not cure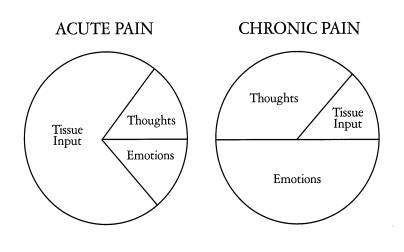 When experiencing acute pain much of the management of pain needs to be focused on the tissue input, as this is a large portion of the condition. Chronic pain is different, thoughts and emotions make up a significant portion of the experience. This means that when experiencing chronic pain it is particularly important to treat not only the tissue input but also your thoughts and emotions.