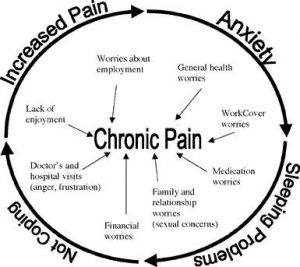 Chronic pain can lead to a self-feeding cycle characterized by your pain producing anxiety and sleep problems from lack of coping that leads to increased pain sensation which further continues the cycle. This cycle does not, however, need to dictate your pain condition. You can interrupt the cycle by using effective behavioral coping skills.
Chronic pain has many layers. Your pain condition may be experienced as tissue damage, pain sensation, thoughts, emotions, suffering and pain behaviors. It is important to be aware of these many different layers because often people experiencing chronic pain most readily notice and identify the tissue damage and pain sensation. When only treating those areas of your pain condition, this can lead to ineffective coping which is why Precision Spine & Pain Management uses a multidisciplinary model to treat your pain. It is our belief that you will be best served by taking advantage of all of our services to fully treat your pain condition.
Chronic pain is a real experience. However, pain is also subjective which makes it modifiable. Each person is unique and therefore the way each person will handle pain is different. Pain is intenced by environmental, psychosocial and behavioral factors.
This article is not meant to be all-inclusive, rather a simple informative read. Our providers can help you to understand and take control of your  pain with a treatment approach designed specifically for you.